New collaboration between Morukuru Family & Natural Selection to create "The De Hoop Camino"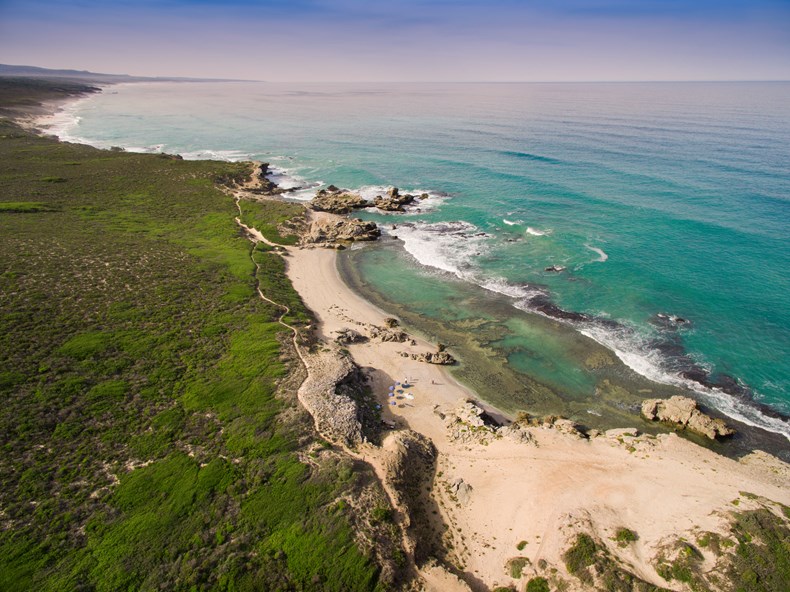 Camino:A path or trail. Also an unforgettable experience and a unique journey.
Morukuru Family and Natural Selection have launched a partnership to offer the active traveller a new, unique and exciting way to explore one of the most beautiful and unvisited parts of South Africa's Garden Route. Spending 5 days discovering this rugged stretch of coastline, 'The De Hoop Camino' will follow 14 km of scenic trails and footpaths along the beaches, secret coves and the fynbos-covered coastline of the De Hoop Nature Reserve.
This is a new partnership between these two highly respected destinations. It facilitates unique and in-depth exploration of this fascinating area for the visitor, taking away any logistical element for guests, allowing them to focus purely on the wildlife and exceptional landscape. The combined expertise of the guides at Lekkerwater and Morukuru result in detailed maps and briefing documentation to support an informative and eye-opening trail for guests to enjoy at their leisure, on this self-guided trek. 
The De Hoop Camino starts with an optional 6km walk to Lekkerwater Beach Lodge from the parking area in the reserve. Over their 2-night stay at Lekkerwater guests can enjoy a guided fynbos or inter-tidal coastal walks and enjoy a swim in the rock pools. 
From Lekkerwater guests will then embark on a leisurely 4 to 6-hour coastal walk west, to Morukuru Beach Lodge. The trail will offer intimate insight into the wonders of this coastal environment. The De Hoop Nature Reserve landscape is defined by a rare lowland fynbos. It is home to the smallest and most threatened vegetation in the plant kingdom, known as the Cape Floral Kingdom. A magnificent, coastal landscape, it borders the Indian Ocean, where, between June and November, whales (sometime in their hundreds) can be seen with their young as they make their way north. Also, guests may spot schools of dolphin playing in the surf, enjoy countless birdlife sightings, including the endangered black oyster catcher, and view a wealth of other marine life sheltering in amongst the gullies and rock pools.
During the subsequent 2-night stay at Morukuru, activities like mountain biking, snorkelling, sandboarding and nature drives are included, over and above some more fabulous walks.
This new partnership brings to the nature-loving, outdoors traveller a deeply enriching, remote and independent wildlife & landscape experience, whilst maximising on the comfort, luxury and convenience provided by two experienced and exclusive host companies: Natural Selection and Morukuru Family.
For press information and images please contact:
Catherine Armstrong at Small World Marketing  
E. [email protected]  T. 0845 634 1460