Natural Selection to open Lekkerwater Beach Lodge in April 2019, their first property in South Africa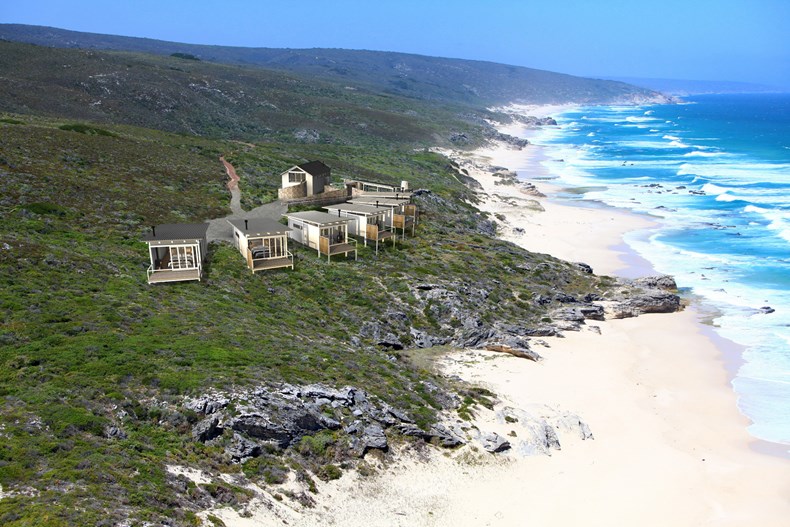 Natural Selection will open their first South African property, Lekkerwater Beach Lodge, in April 2019. The seven room exclusive eco-lodge is in De Hoop Nature Reserve, one of the most dramatic beach locations in South Africa and home to some of the world's best land based whale watching.
Just over three and a half hours' drive from Cape Town (or well under an hour's flight in a Cessna Caravan aircraft), Lekkerwater, which means "good water" in Afrikaans, is situated within the eastern, most exclusive area of De Hoop Nature Reserve. The lodge will offer a year-round authentic beach and bush experience in a magical, homely setting. Each room looks over six kilometres of pristine beach that is dotted with rockpools and extraordinary fynbos – but with rarely a person in sight. This really is the ultimate beach destination.

The lodge has been built on the site of former South African President FW de Klerk's retreat. The site was selected because of its proximity to Cape Town, combined with its extraordinary natural beauty and solitude. It was here that De Klerk planned and deliberated how to elevate the old South Africa into the new, far from the stresses and demands of the politics of the time. Nelson Mandela was foremost on his mind, as were the discussions and debates about South Africa's new constitution which is today regarded by many as the fairest and the finest in the world. This story, as well as the broader strokes of the country's own history, will be weaved into every visitor's stay here.
De Hoop is one of the most glorious coastal reserves in all of Africa and offers some of the best land-based whale watching on the planet. From July to November (and sometimes even early December), southern right whales and their offspring flock here from Antarctica in their thousands. They're not alone either. Just offshore is the De Hoop Marine Protected Area, essentially a game reserve in the sea where there can be no fishing or marine exploitation of any form. Guests to De Hoop see sizeable pods of dolphins and an array of rich marine life in South Africa's ultimate, land-based marine safari destination.  

But this is not your traditional 'fly-and-flop' beach holiday; accommodation is limited to a two night stay. Natural Selection co-founder and developer of Lekkerwater, Colin Bell says: "All guests will arrive on the same day as strangers and depart two days later as friends and comrades after enjoying the journey of discovery that the lodge's guides and this pristine environment will unfold". Activities will focus on learning about and exploring the spectacular beach, its rockpools and intertidal zones, the fabulous fynbos, even caving and nature drives within the reserve.

Meals will be cooked in front of guests, sometimes right on the beach, toes-in-sand style, with the region's finest wines on the table. There aren't many places to enjoy this in anywhere in Africa – Natural Selection's Lekkerwater Beach Lodge at De Hoop is one of the few.

For more information and bookings please visit: www.naturalselection.travel or email: [email protected]