Kenya makes 13 November nationwide tree planting day a public holiday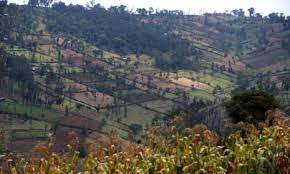 The Kenyan government has announced a surprise public holiday on 13 November for a nationwide tree planting day, part of its ambitious plan to plant 15bn trees by 2032
The interior minister, Kithure Kindiki, made the announcement via an official notice posted to social media.
"The government has declared a special holiday on Monday 13 November 2023, during which the public across the country shall be expected to plant trees as a patriotic contribution to the national efforts to save our country from the devastating effects of climate change," said Kindiki.
Kenya's forest cover stands at about 7% but the government has set aside more than $80m (£65m) this financial year as part of its effort to increase it to more than 10%.
Trees store carbon, one of the main drivers of global heating. In contrast, deforestation accelerates climate change: it halts plant photosynthesis so trees are no longer taking up carbon. It is also often accompanied by burning, which releases large amounts of carbon dioxide.
The climate crisis is causing worsening droughts in the Horn of Africa, including Kenya, where rains have failed for five seasons in a row.
Source: The Guardian