Kenya awarded safe travel status by the World Travel and Tourism Council (WTTC)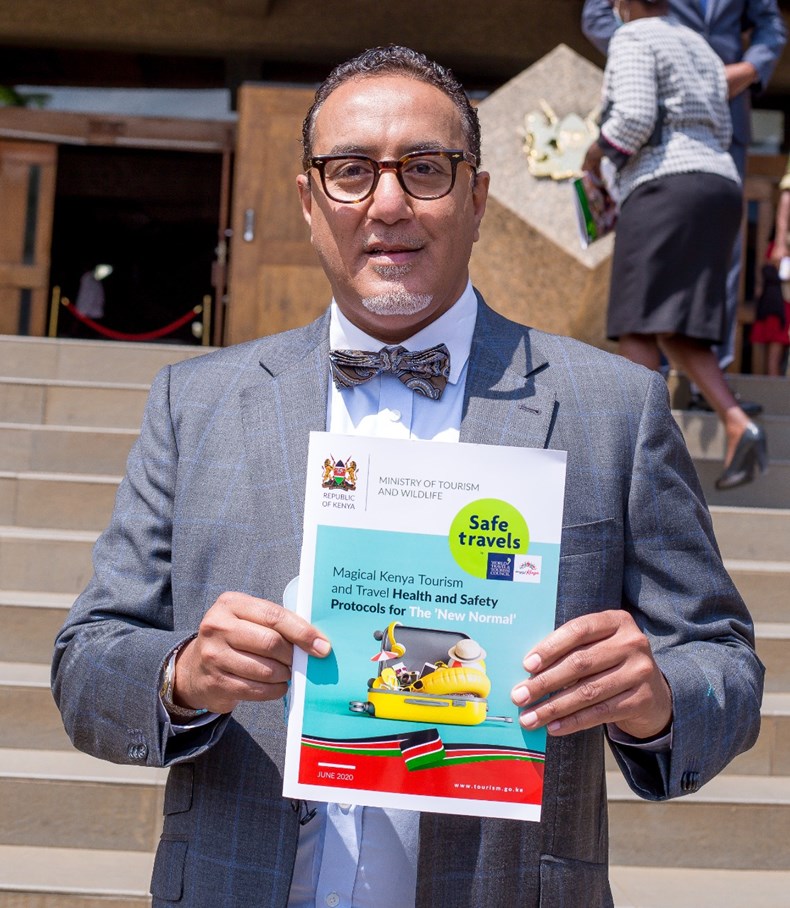 Nairobi, Wednesday, July 1st, 2020: Kenya has been awarded the World Travel and Tourism Council (WTTC) Safe Travel Stamp. This is in recognition of the destination's adoption of the global health and hygiene standardized protocols dubbed 'Safe Travels'.
This announcement was made by the Cabinet Secretary for Tourism and Wildlife Najib Balala during the unveiling of the Magical Kenya travel & tourism health and safety guidelines and protocols. This recognition is timely as Kenya prepares to reopen the tourism and hospitality industry after months of closure as a result of the COVID-19 pandemic.
The World Travel and Tourism Council (WTTC) and the World Tourism Organization (UNWTO) validated Kenya's protocols prepared by the National Tourism and Hospitality Protocols Taskforce.
 "I am delighted to announce that Kenya has been listed among the 80 global destinations certified and authorized to use the "World Travel and Tourism Council Safe Travel Stamp" together with our Magical Kenya Logo. This stamp will allow travelers to recognize Kenya as a safe destination once we reopen and implement the health and safety protocols" said CS Balala.
Video Link on the unveiling:  https://we.tl/t-aeIuNZImO7
The tourism and travel sector is undoubtedly one of the worst-hit globally following the outbreak of the Covid-19 Pandemic. Arising from the pandemic the tourism and wildlife sectors are experiencing unprecedented health and social-economic crisis. Locally, the crisis has crippled the industry due to the movement restrictions imposed by the government to curb the spread of the virus.
"The Protocols we have launched today will provide guidance for the tourism sector's reopening as we look to actualize the tourism recovery initiatives that have been facilitated by the government going forward.  I appreciate the National Tourism and Hospitality Protocols Taskforce for developing this document that will form a basis for proper reopening of the sector" added Balala.
The protocols will seek to achieve Institutional, Operational, and Staff Preparedness to ensure service provision meets required guidelines aimed at preventing the spread of COVID-19. They will also ensure a safe experience for visitors, rebuild trust and confidence, and Implement enabling policies and guidelines thus provide a step by step process of a careful reopening and restart of business in the tourism sector.
For more information, contact [email protected]