Kamageo publishes UK Consumer Survey Phase 2 results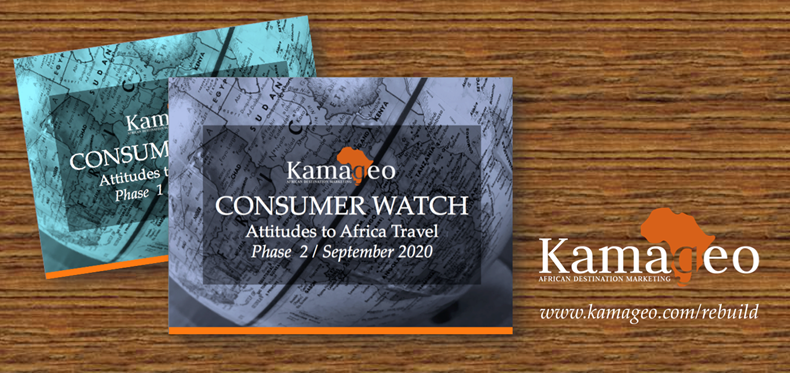 As part of their on-going consumer research programme, Kamageo has published the second phase of their results (download here or via www.kamageo.com/rebuild). Kamageo again asked the opinions of 10,000 UK travellers (all of whom have travelled to Africa or on a wildlife related long-haul trip) about their views regarding travel to Africa in these extraordinary times. 
With 65% of respondents are over 45 yrs old, and a total of 75% over 35, the survey accurately reflects the age brackets most likely to take up higher-end safaris to Africa. The monthly survey allows Kamageo to gauge how respondents opinions are being influenced by everything from news headlines to government regulations.
Notably changes included :
The timeframe in which UK consumers are anticipating safely travelling to Africa has moved back with only 66% envisaging travelling in 2021 (versus 84% in the previous survey)
75% of respondents stated that Covid had not impacted negatively on their ability to travel to Africa (previously 59%)
Generally, increased inflight safety measures were required versus Phase 1 results
There was an increased suggestion that masks should be worn, even on game drives
South Africa remained the most desirable destination, with Madagascar the biggest increase - up 5%, whilst Uganda was the destination slipping most (down 15%). *Note, sadly Uganda is no longer represented in the UK by Kamageo.
Commenting on the most notable changes in the five weeks between surveys, Tim Henshall, Chief Executive at Kamageo stated, "Would-be travellers are getting more and more conscious of safety, but there desire to travel is continuing to increase by the minute. When its safe to do so, they are going to be desperate to scratch that itch!" 
Kamageo also believes there is a direct correlation between providing comprehensive travel information (to the trade, media and public in general) and the desire to visit a destination. "Getting a clear message out there is absolutely vital" added Henshall, whilst complimenting ATTA on their outstanding efforts to keep the trade updated on a daily basis.
​