Indulge in More than a Safari with the Reopening of African Bush Camps' Thorntree River Lodge in Zambia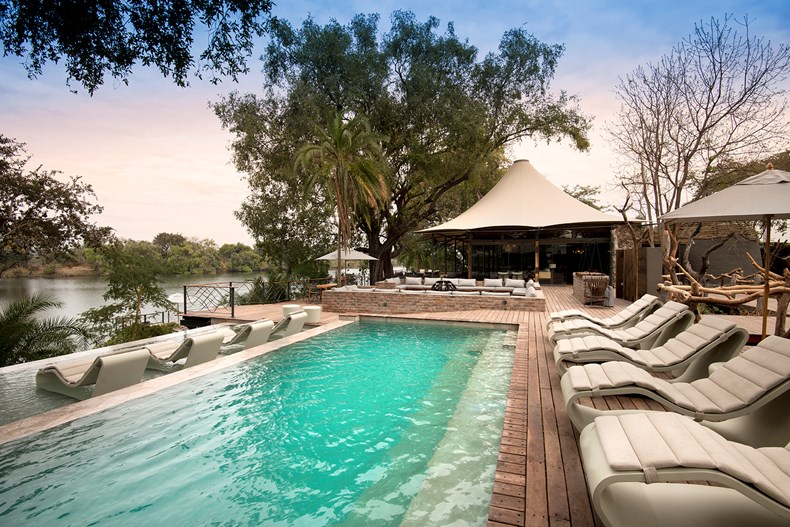 The Zambian-based Thorntree River Lodge has started to welcome local and international travellers back to its premises in December 2020. 
The uber-luxury 12-room lodge, complete with a gym and spa, graces the banks of the Zambezi River in the Mosi-Oa-Tunya National Park.  With spacious double suites naturally accommodate social distancing precautions, Thorntree River Lodge is a prime spot for a restful escape among Africa's wildlife.
After a refreshing sundowner, while watching the African sunset, guests can choose to enjoy their private plunge pools and in-room bars or gather  with friends and family around a bonfire in the sunken boma next to the communal outdoor lounge.
Located approximately 20 minutes from Livingstone's international airport, the lodge is an easily accessible destination for travellers across the globe. With airlines such as Emirates,  British Airways, Kenya Airways, and South African Airways offering straight and one-stop routes to Livingstone, you can again reach your safari location with less hassle in the "new normal". The Victoria Falls Airport across the Zimbabwean border is not much further away. It serves as an alternative arrival point from where ABC's chauffeurs and guides collect guests in a first-class, deep cleaned shuttle limited to six passengers per pick up/drop off.
While the lodge seamlessly combines an unforgettable inland and riverside experience just 20km upstream from the Victoria Falls, ABC's roots in community development and culture remain visible elements in the lodge's design and its team's ethos. Every year, ABC donates approximately 2.5 percent of its annual turnover to its Foundation's projects and  helps raise funds to continue the Foundation's work in the villages surrounding all 15 camps in Zambia, Zimbabwe and Botswana.
In rural Maunga, Zambia, the Foundation recently put finishing touches on a Health Centre to provide critical healthcare services to thousands in the area. The centre's labour ward welcomed two deliveries in 2020. The Foundation's work is ongoing and includes teaming up with WaterAid to provide running water to the Centre as well as to a nearby primary school.
To aid the Foundation in its fundraising efforts, ABC has launched its first "Giving Back Safari" auction, providing the ultimate all-round safari and privately guided by CEO and founder, Beks Ndlovu. Bidding is open until 18 December 2020.
What to Know Before Travelling to Zambia:
On arriving in Zambia, international travellers must present a negative CV-19 PCR test taken within the 14 days prior to departure
All international travellers must obtain a Travel Certificate from the Zambian Ministry of Health. To obtain the Travel certificate customers must present their passport along with their CV‑19 test results at one of the below mentioned offices (African Bush Camps' chauffeurs and guides happily assist with this process on collecting guests at the airport):

University Teaching Hospital (UTH)
District Health Office (DHO)
Public Health Office (PHO)
Zambia National Public Health Institute (ZNPHI)
Adult Infectious Disease Center (AIDC) at UTH

Airlines may require a travellers health questionnaire to be completed on board and presented to health staff at the airport for review
Please ensure you are knowledgeable of the travel requirements for returning to your resident country
Bookings are 100 percent refundable. Please read up on our CV-19 T's and C's
Excluded from ABC rates: Visa fees, international and regional flights, travel insurance, items of a personal nature, staff gratuities
For more information and to make reservations at Thorntree River Lodge, visit https://africanbushcamps.com/camps/thorntree-river-lodge/
To support the Foundation, visit the Global Giving platform