Hwange Game Count Reveals Abundant Wildlife Densities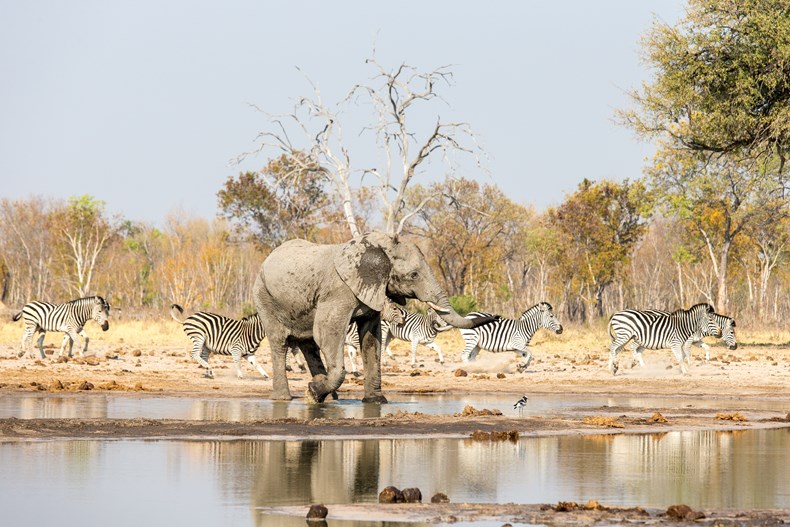 The results of the annual 24-hour waterhole game count that took place in Zimbabwe's Hwange National Park in October 2019, have revealed an abundance of diverse species in Wilderness Safaris' private concessions, including two rare sightings of aardwolf and brown hyaena. Making up 3.6% of the entire park, Wilderness Safaris' private Makalolo and Linkwasha concessions comprise 52 300 hectares in the south-eastern corner of the Park, offering exceptional year-round game viewing.
The annual Hwange Game Count has been undertaken since 1972, with Wilderness Safaris staff and other volunteers assisting Wildlife Environment Zimbabwe, in conjunction with Zimbabwe Parks and Wildlife Management Authority (Zimparks), with the counts since 1997. To coincide with the full moon in September/October, the 24-hour count takes place during the dry season when most of the animals are at the waterholes. This year's statistics indicate that a good portion of the overall wildlife population in Hwange can be found in Wilderness Safaris concessions.
"This is largely due to our ongoing commitment to conservation in Hwange over the past two decades, including the installation of water pumps and their ongoing maintenance, as well as our support of the Scorpion Anti-Poaching Unit", comments Arnold Tshipa, Wilderness Safaris Zambezi Environmental Manager. "Effective game water provision in our private concessions is an essential part of Hwange's ecosystem, with the first borehole having been sunk in the Park as far back as 1935".
Click here to view the infographic highlighting Wilderness Safaris' abundant concessions in Hwange.