Gondwana's Etosha King Nehale Lodge opening 01 May 2020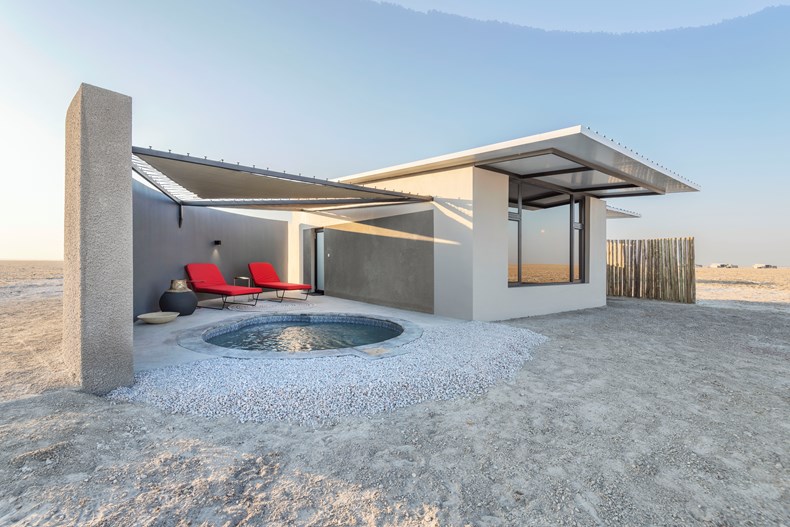 Located on the Andoni Plains, just one kilometer from Etosha's northers-most King Nehale gate, Etosha King Nehale Lodge hosts 40 rooms, which pay homage to the rich cultural heritage of the area. The lodge is situated in the King Nehale Conservancy. An easy overnight stop after an exciting day of game-viewing in Etosha, the lodge is that much-needed stop on a journey to the northern reaches.
Etosha King Nehale, designed by Sven-Eric Staby, takes the shape of a head of Nguni cattle, the chalets radiating out from the central area like a cow's horns. Each of the spacious chalets, fit for a king, has its own plunge pool and views over the plains, where sunrises and sunsets, and the phases of the moon are accentuated, offering guests the exceptional feeling of endless space and limitless horizons.
The detail that puts this new lodge over the top, is its private access to a secluded waterhole inside Etosha National Park. This waterhole is reserved for Etosha King Nehale guests only.
The area is characterised by vast and spectacular landscapes including the Andoni Plains, artesian springs and woodlands. To the north, the conservancy is surrounded by the pulsating life of the communal areas of the Oshikoto, Oshana, Ohangwena and Omusati Regions. Guests have the opportunity to combine the cultural vibrancy of so-called Owamboland with the natural wonders of the rarely frequented northern part of the Etosha National Park.
For more information visit www.gondwana-collection.com