Flood Waters Return to the Okavango Delta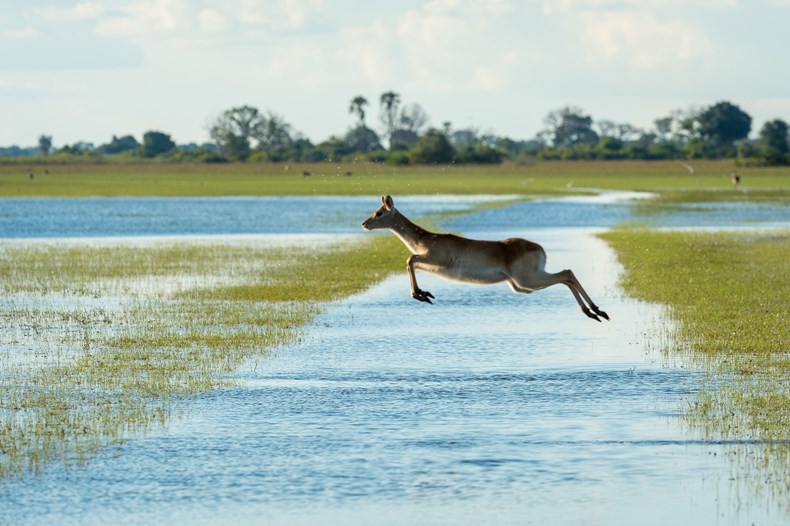 It is a truly wondrous thing that the cycle of nature continues regardless, despite what may be happening in the world. After a challenging, but not necessarily unusually dry year in the Okavango Delta, the annual inundation has finally arrived. Bringing life back into the system, water levels are rising on Wilderness Safaris' Abu, Jao, Mombo and Vumbura concessions. Over the past weeks water has been flowing in to fill up dry river beds and replenish floodplains – with water reaching the riverine forest edges.
"The process started seven months ago in September 2019 with the start of the rainy season in the highlands of Angola, from where the Okavango Delta sources its life-giving waters. Satellite rainfall data for the catchment shows that average to above average rainfall has fallen in the highlands over this season. The Cuito and Cubango rivers, the two main tributaries feeding the Kavango River, transfer rain water first through peat wetlands and source lakes and then through narrow steams, and rivers, until it arrives in Namibia and Botswana several months later", comments Rob Taylor, Wilderness Safaris Conservation Ecologist in Botswana.
In addition to supporting the myriad wildlife and specialist species that exist within the protected wildlife areas of the Delta, this miracle of nature is also crucial to the survival of the people of Botswana. Community-owned livestock can drink, ground water is replenished and water is made available to subsistence and small commercial agriculture on the outskirts and close to the villages that surround the Okavango Delta.
While it is a spectacle that some guests will miss witnessing in person this year, Wilderness Safaris will continue to share the highlights of this year's flood via their online platforms. When travel restrictions are finally lifted, a revitalised and rejuvenated wilderness experience will be ready and waiting for its guests.