Extraordinary reveals a new destination on the Panorama Route, Mpumalanga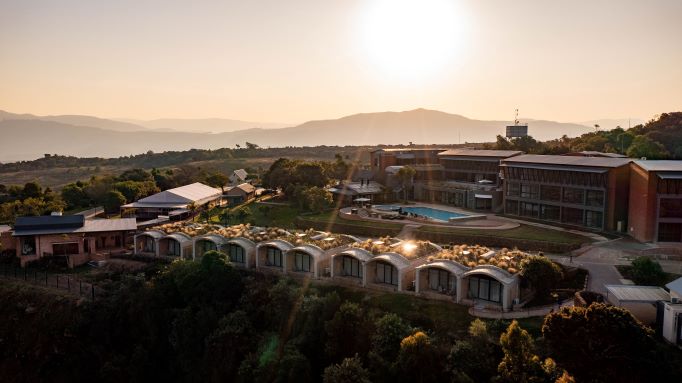 Extraordinary, an esteemed collection of luxury lodges and hotels in Southern Africa, is delighted to introduce the world-class luxury hotel, Angels View by HoyoHoyo, in Mpumalanga. The hotel is located 5km from the picturesque village of Graskop.
Angels View offers a luxury product with a multi-market target, ideal for both leisure and business travellers looking for accommodation in close proximity to the renowned Kruger National Park, Panorama Route and the many wonders of the province named after the Rising Sun. The Kruger Mpumalanga International Airport allows convenient access for domestic and international tourists.
The hotel's design
Culturally aligned and inspired by Shangaan styles, the interior design company Donald Nxumalo Interior Design has embraced traditional motifs right through to the Xibelani lights that are featured across the hotel. Donald Nxumalo of Donald Nxumalo Interior Design is remarkably talented, with a knack for combining sophistication, African influence, urban chic and intuition to create something exceptional. He is considered amongst the "A-list" of local designers, able to chart new territories with his unique design language. In recent years, Nxumalo has graced the covers of ELLE Decoration and Conde Nast House and Garden – a testament to his creativity and success.
Accommodation options and facilities
Angels View boasts a myriad of accommodation options, from the contemporary-styled superior and luxury panorama rooms to the ten Earth Grotto suites, the four-bedroom Khoza House and two one-bedroom suites complete with mini kitchens and private balconies.
The hotel facilities include a Grande pool deck, viewing decks, spa, gymnasium, library and plenty of lounge space in which to relax and soak up the unique setting. A trend-setting glass bar area, known as Café Ahe, completes the experience.
Weddings, events, and modern conferencing are the order of the day, and the facilities are truly show-stopping. Guests are spoilt for choice when planning their big day or event, whether choosing the spectacular Amphitheatre, glass marquees or a more traditional modern conference venue complete with the most up-to-date technology.
AHE is a destination restaurant on the estate which caters perfectly to tour groups and leisure visitors in a charming setting with spectacular views across the Lowveld.
Nearby attractions include the Graskop Glass elevator, God's Window, Bourke's Luck Potholes, Blyde River Canyon and historic Pilgrim's Rest.