Ethiopian Airlines sponsors RIDE 4 RANGERS supporting ATTA, Tusk & Land Rover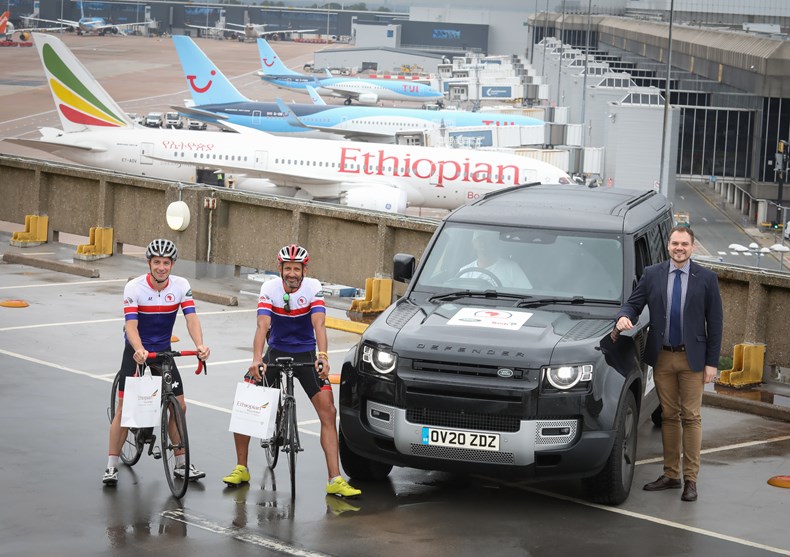 Ethiopian Airlines welcomed riders supporting 'Ride 4 Rangers' at Manchester Airport today, Sunday 23rd August 2020.  The British amateur cyclists started their global 30,000KM bike ride in Land's End on Saturday 15th August and will arrive in John O'Groats on Saturday 29th August.
Stopping off at Manchester Airport on route to thank the Ethiopian Team for their support, Michael Yohannes, Director UK & Ireland Ethiopian Airlines commented, "We are delighted to be supporting this amazing charity and welcome the cyclists to Manchester Airport where we operate from to Addis Ababa and connecting across Africa.  During these difficult times it is a pleasure to support and work with the African Travel Industry on this incredible project (detailed below) and we wish all the cyclists the best of luck in the UK and across the African Continent".
Julian Carr, Airline Development Director at Manchester Airport, said: "We were thrilled to welcome Ben, Jean and Joel to Manchester Airport as they approached the halfway mark on their lengthy journey, raising money and awareness for a very important cause.
"In these unprecedented times, its important we do whatever we can to continue building on the crucial links between the North and the rest of the world. We're delighted that Ethiopian is maintaining its thrice-weekly service to Addis Ababa, linking Manchester directly with the sub-Saharan Africa, and to that end, it's also fantastic to see three British cyclists helping to make a huge difference to wildlife conservation across the continent."
Pictured: Cyclists:  Black Helmet – Joel Crossland – Africa Reps;    Red Helmet – Ben Morison – Far & Wild Travel with Tim Bettney – Traffic & Sales Manager – Ethiopian Airlines – Manchester with the TUSK Land Rover and Ethiopian Aircraft (B 787 Dreamliner) just arrived from Addis Ababa.