CITW Zimbabwe Restarts School Feeding Scheme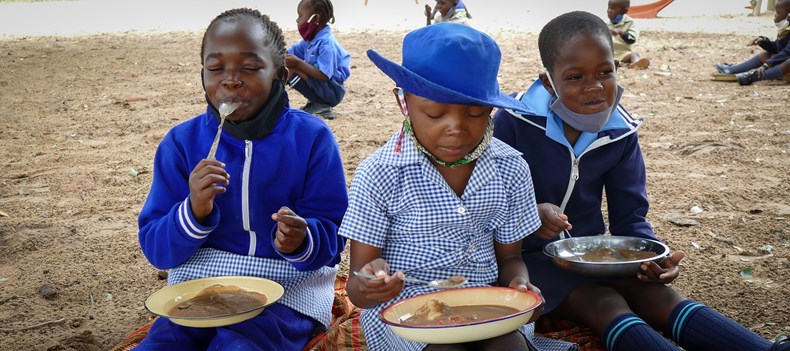 After a one-year hiatus due to the COVID-19 pandemic, Zimbabwean schools are open again, and Children in the Wilderness (CITW), Wilderness Safaris' non-profit partner, has provided two tonnes of nourishing porridge to primary schools in Matabeleland North province, ensuring each child has a nutritious start to the day.
Deliveries of the porridge took place between the 30th of March and the 7th of April, at St Mary's, Dinde, Jabulani, and Lesedi primary schools, situated between Victoria Falls and Wilderness Safaris' camps in Hwange National Park, resulting in 2 000 primary school children receiving an essential energy-packed breakfast for the next few weeks. The instant porridge, Mighty Meal, is made from 100% Zimbabwean-grown ingredients including white sorghum, nyimo beans (bambara nuts), groundnuts and baobab fruit powder, and simply requires hot water to prepare.
The porridge donation follows the 170 tonnes of food distributed by Wilderness Safaris and CITW between August 2020 and March 2021 to some of the most vulnerable families in the Zambezi region, still struggling with the devastating economic effects of the COVID-19 pandemic.  A total of 4 191 food hampers have been handed over to date, positively impacting 17 000 community members. The hampers contain essential food items including maize meal, rice, peanut butter, sugar beans, salt, cooking oil, and soya chunks and will help to alleviate the pressure placed on household breadwinners, while providing much-needed sustenance to their dependants.
Additionally, CITW has been providing hygiene products as well as educational assistance in the form of student allowances since the onset of the pandemic. While Eco-Clubs and other school projects have had to wait for the resumption of schools, CITW has continued driving various other important empowerment initiatives during this time, such as the worm beds and fertility trenches. A community meeting hall was also completed in Jabulani, providing shelter for income-generating groups to gather and work on their projects, and to display and sell their products, once tourism resumes.