BUGTech Anti-Insect Shirts: Back in Stock and Better Than Ever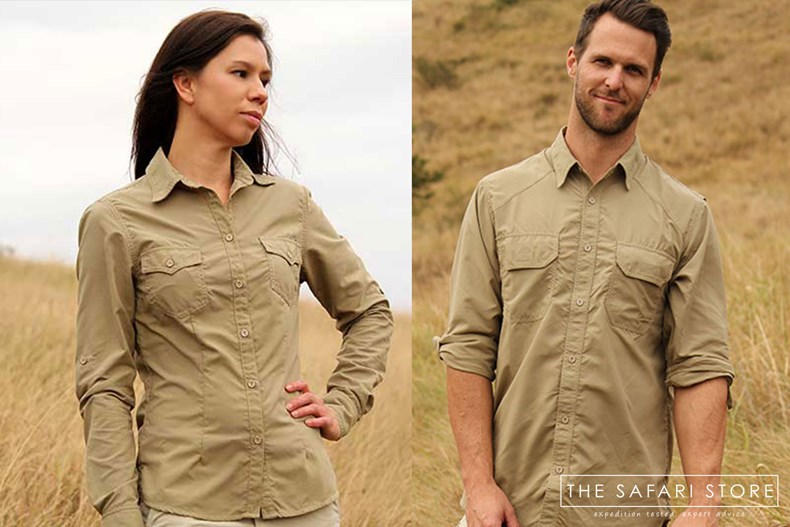 The Safari Store's latest run of BUGTech long-sleeve anti-insect safari shirts for men and women has arrived. This version of our bestselling shirts has had a few upgrades, with features that add a touch of luxury to these technical, functional safari essentials.
We know of no other anti-insect garments which feature insect defence without compromising moisture wicking – both of which are immensely important on safari and warm-weather travels. BUGTech safari clothes stand out in the outdoor clothing market for this unique combination of properties. This has been independently tested, but also safari and expedition tested and refined over time to meet our standards as African travellers. The latest version of our bestselling BUGTech long-sleeve safari shirts is the best yet, with these exciting upgrades:
Made from new, ultra-light fabric with a soft hand feel
New micro ripstop for additional strength
Sunglasses loops: the handy way to hook your sunglasses or specs to your shirt
Double roll-up sleeve tabs on each sleeve to keep them looking neat and out of the way when you roll them up (especially useful on active safaris)
Made with even greater attention to detail
New safari-friendly colour: Baobab
There are some features, however, which were too good to change:
The same tried and trusted BUGTech formula
Built-in UPF50+ sun protection
Moisture wicking, quick-dry fabric which releases wrinkles quickly for travel
Anti-microbial finish to keep your shirt fresher for longer
+Vent ventilation running along the back seam
Modern cut and styling
Packaged in paper as part of our 'say no to plastic' philosophy
Find out more about the Women's BUGTech Pioneer Anti-Insect Shirt.
Find out more about the Men's BUGTech Explorer Anti-Insect Shirt.