An extensive refurbishment at Cottar's 1920s Camp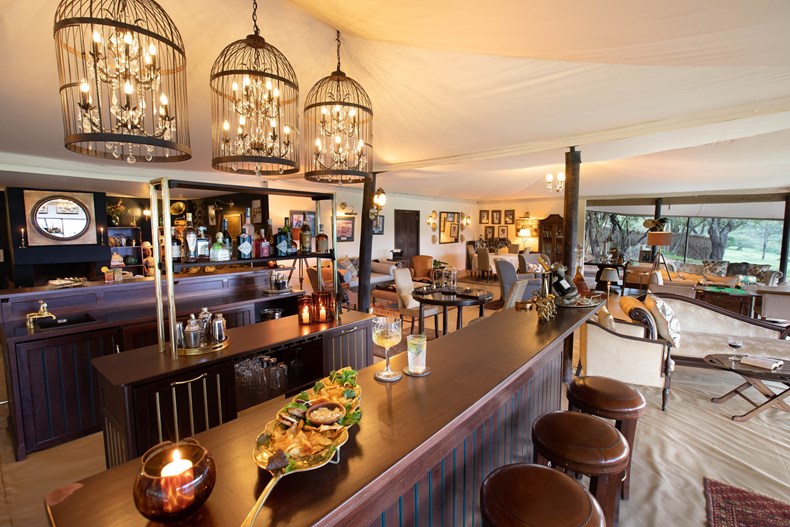 Following an extensive refurbishment, the Cottar's 1920s Camp in the Maasai Mara now includes a signature Mess tent, as well as an Explorer's tent, and a stunning new interior for the second Honeymoon tent. Everything is ready and open, and we are excited to receive guests following on from the news of the roll-out of the COVID-19 vaccine.
The Mess tent, situated with a hilltop view of the rolling savannahs, encompasses an Art Nouveau centre bar, an explorer's library fire nook, a Victorian-era inspired dining area and vintage lounging area. After braving antique auctions in Kenya and in Europe, the Mess tent refurbishment has many authentic and inspiring safari pieces such as first edition Africana books, and authentic explorer equipment such as sextants, binoculars and telescopes. Evenings are warmed under lighting from Kenya's 1920's 'lunatic' train line, working gramophones and original photography portraying the history of safari.
The Explorers tent is the equivalent of a scaled 'cabinet de curiosite'. The tent showcases the history of safari, the Maasai culture, unique biodiversity specimens and conservation stories in an interactive and engaging space, where evening talks expand on such issues as the life of the Maasai community, conservation and the importance of the Mara's keystone species.
The Honeymoon tent, rivalling a suite in size, with two bathrooms, separate fire room, living and dining areas, and bedroom with matching Bauhaus inspired 1920s walnut burl wardrobes and a huge 4-poster bed. Private afternoon teas are served from original travelling trunks containing Victorian silver service tea sets. Experience the 'bath of a lifetime' and soak cares away in bespoke safari canvas baths, in a secluded open-air enclave, a perfect backdrop for a classic romantic safari sojourn.
The Cottar family have three places to stay in the Maasai Mara Cottar's 1920s Camp, Cottar's Bush Villa and Cottar's Conservation Camp.
Contact [email protected] for more information.
Read more about our update HERE