A brand new fleet of custom 4x4 Game Viewing vehicles arrive at Elewana Sand River Masai Mara & Elewana Kifaru House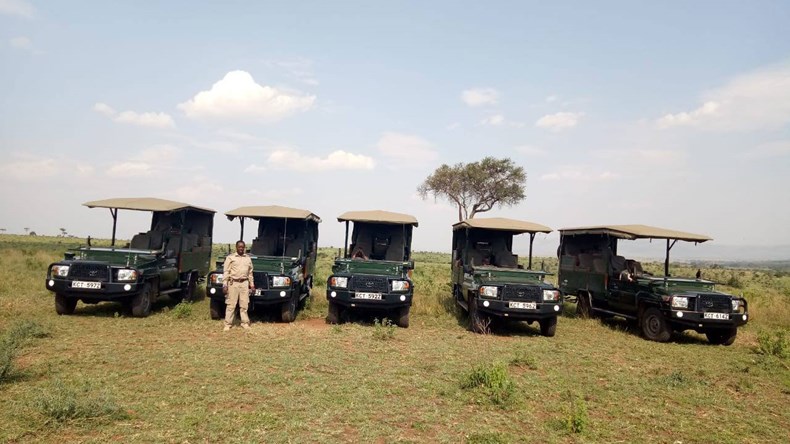 We are pleased to announce that eight brand new custom built 4x4 game viewing vehicles are now operational at Elewana Sand River Masai Mara and two have just arrived at Elewana Kifaru House. The spacious and custom built Toyota Landcruiser have been exclusively designed for the Elewana Collection with the following unique features;
Each vehicle has a raised body for better viewing, which includes the canopy overhead being higher allowing guests to stand, while still being protected from the sun.
The 3 pairs of seats are on staggered levels to ensure everyone has an uninterrupted view.
Each guest has a 'window seat' with exceptional views. We have removed any form of obstacle from the side panel section to allow for maximum visibility, a distinct advantage when taking photographs or capturing a special safari moment on video.
Spacious and comfortable seats with plenty of leg room.
Charging points at each seat (USB and 3-pin plug) for guests to recharge electrical equipment and plenty of storage pockets to keep things safe and tucked away.
The vehicles have a fridge to keep a selection of beverages chilled and their own wooden 'Gin Box' (On-board minibar).
All vehicles are equipped with their own table and chairs, ready for those bush picnics.
A nifty little water tank complete with tap for guests to wash their hands.
Double spare wheel carrier.
Easy access steps that are packed away in the vehicle.
We constantly strive to ensure our guests have the ultimate safari experience, we have worked with elite suppliers to ensure we get the best design for our fleet of custom 4x4 vehicles so that each guest has that enhanced game drive experience. Every vehicle is driven by Elewana's elite team of Safari Guides who are passionate about sharing their knowledge on Kenya's incredible diversity of fascinating animals, unforgettable places and captivating cultural heritage.