Sustainability Charter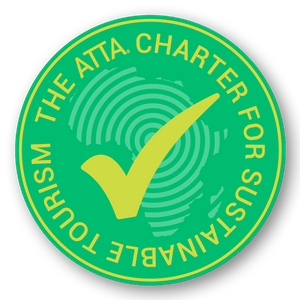 The African Travel and Tourism Association, as the leading tourism trade body for Africa, recognises the significant responsibility and opportunity to develop and manage tourism in ways which conserve and enhance the wellbeing of Africa's environments, cultures and local communities, appreciating that these are the essential components of successful, sustainable tourism.
ATTA® recognises tourism's relevance to all 17 of the Sustainable Development Goals, which have inspired this Charter. It also endorses the Global Code of Ethics for Tourism and recognises the Global Sustainable Tourism Criteria as providing the internationally agreed standard for sustainable tourism.
Reflecting on the particular context and needs of tourism in Africa, ATTA® commits to the following 10 principles and encourages its members to endorse them and put them into practice:
Enhancing local prosperity: To increase the proportion of tourism spending that is retained locally, by employing local people, encouraging local purchasing and, where possible, sourcing goods and services from local businesses.
Supporting communities: To identify and pursue opportunities to support essential services in local communities, including health, sanitation, education and infrastructural projects.
Valuing staff: To recognise the rights of employees, providing them with a safe and secure working environment and at least a living wage, offering skills training and potential for advancement and avoiding all forms of discrimination and exploitation.
Involving visitors: To enhance visitors' experience and sense of engagement through providing them with accurate information about local environments, cultures and sustainability issues and encouraging and facilitating their involvement and support.
Celebrating local cultures: To respect local and indigenous rights, cultures and traditions and contribute to their preservation and enrichment, reflecting and celebrating them sensitively in tourism products and activities and avoiding inappropriate commodification.
Reducing emissions: To identify and measure greenhouse gas emissions relating to tourism operations and take action to reduce them through minimizing energy consumption, favouring renewable energy sources, and promoting the use of resource efficient transport options.
Managing water: To identify the degree and nature of water risk in local destinations, ensure responsible water use and avoid adverse impacts on local communities and ecosystems from the level and pattern of water consumption and the treatment of wastewater.
Conserving wildlife: To raise awareness of threats to Africa's wildlife and support for its conservation, in general and as a source of livelihood through tourism, and to ensure that wildlife interactions are responsibly managed and all wildlife-related regulations are fully met.
Minimizing waste: To minimise the production of waste from tourism operations and activities, following programmes to reduce, reuse and recycle, with special attention to reducing food waste and avoiding single-use plastics, and ensure appropriate waste disposal.
The above 10 principles draw upon, but are not equivalent to, the full set of Global Sustainable Tourism Criteria. Businesses seeking to be identified as pursuing sustainable tourism should apply for certification from a scheme that is GSTC-Accredited or that uses a GSTC-Recognized standard.